JOIN OUR NEWSLETTER TO RECEIVE FREE RECIPES AND BE THE FIRST TO LEARN ABOUT UPCOMING CLASSES
Mamacita Who?
Mamacita is titled after my father's nickname for my mother. What started two years ago as a project to immortalize the recipes I grew up eating became a way to reconnect with my Mexican heritage. As I learned how to navigate the immigration system, a pivotal chapter emerged: to keep my family together.
Learn more about our story HERE.
Book Overview
In this inspiring and creative Mexican cookbook, Andrea Pons takes you on a journey through flavor, family, and her immigration story. With 78 easy and delicious recipes from three generations of women in her family, this cookbook offers you a taste of authentic Mexican cuisine.
Mamacita began as a celebration of the authentic Mexican recipes Andrea Pons loved growing up, but it quickly became a way for her to return to her roots and reconnect with her Mexican
heritage. In her journey through food, she shares not only her experiences with cooking but also her family's immigration story. 
When Pons was faced with the possibility of deportation, and she and her family struggled to navigate the US immigration system—in the country that had been their home for 16 years—she looked to these recipes for help. To fund her family's significant legal fees, she sold self-published copies of Mamacita, and the cookbook became both a symbol of their journey and a rallying cry. 
About the Author
Andrea Pons is a senior production manager, food stylist, and author based in Seattle, Washington. Born in Guanajuato, Mexico, and raised in the United States, Andrea Pons creates recipes that encourage readers to share a meal around the dinner table and that raise awareness about immigration.
For media and event inquiries please contact mamacitacookbook@gmail.com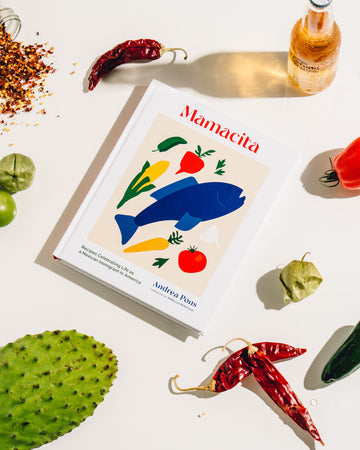 Join the community