ASTA PRONTO! WE'RE GETTING PUBLISHED!
Family.
I've been thinking about what family means a lot this week. What it takes to be a family, and the dedication it requires to keep it strong. 
This Thanksgiving, my parents celebrated their 30th year anniversary. They began dating as teenagers, and after a 6 year noviasgo, they got engaged. I've seen their relationship and love take on many shapes and forms over the years, but no matter the weather, my parents have dedicated themselves to ripen together on the vine, and always focused on keeping our family a safe place, and a space for growth. I realize that not everyone is able to have this experience, and I count myself incredibly lucky and feel very grateful that I could share these important moments with my parents and sister.
The holidays each year, and especially Christmas, were a very big deal during my childhood. Christmas was celebrated at Titita's house, my mother's mom's house. And everyone showed up. My first Christmas in the U.S felt starkly different, and cold. Suddenly there were only four of us, and Christmas felt not just small, but lonely without all my cousins running around and my aunties and uncles around the dinner table. I felt like we were missing out on the cheer and the spirit of the holiday. 
Over the years we have been lucky enough to have been adopted by family friends, and our holidays began to feel full again. And a new question came up, what makes a family, family? Is it the amount of people? The gathering? The last name? 
But, in reality, family can be narrowed down to one simple word for me, kinship. Although, the true definition of kinship means blood related, I believe that kinship can be extended to anyone who is able to share a connection and tenderness with you. 
Kinship is what inspired Mamacita. It is my tribute to the women in my family, who have shared their food wisdom, traditions and knowledge with me, the pursuit to know myself better, and radically love who I am and where I came from, and now my purpose-- to not only help my parents reach their citizenship status so they don't have to choose between seeing their mothers again or leaving my sister and I behind. But, to share my story in the hopes that I can bring awareness to the immigration process and inspire both immigrants and non-immigrants alike to purse their calling and create change in this country for all immigrants. 
This year, my family grew significantly! Although there are still only four Pons-Lopez's living in the U.S, our family has extended all over the world, from the U.S, to Italy, Spain and even Australia. I speak in my parents behalf-- we could not be more grateful that so many of you have welcomed us to your table by purchasing a copy of Mamacita, and therefore making us a part of your family.
And the family is just getting bigger. I had to keep the news to myself for weeks, but we are excited to announce that Mamacita is a new member of the Princeton Architectural Press family. And we are working on bringing you a new edition of Mamacita that will contain more recipes, more recipe photos, and will release in the fall of 2022. 
Unfortunately, what this means is that for the time being, we will no longer sell copies of the original cookbook which published this year. However, we are planning on releasing new products soon, and you can still support us by snagging a Market Tote bag for your next Farmer's Market trip. 
We know it's probably not the news you wanted to hear, but we kindly appreciate your patience and support as we make the new edition of Mamacita the best it can be! Like they say, the best things in life are worth the wait. Right? 
So in the meantime, if you live in Seattle you can checkout a copy of Mamacita from the Public Library, and if you are a current Mamacita owner, I want to encourage you to share the book with your loved ones, host dinner parties, maybe have a cook off, blindly pick a page and make the recipe! There is nothing better than making something delicious and sharing it with someone you love.
This year has been an incredible journey and blessing. Thank you all again for this kinship, for your support and uplifting words throughout the process. I cannot wait for 2022 and all that is yet to come.
Until then, gather and hug the ones you love. 
From my family, to you.
Andrea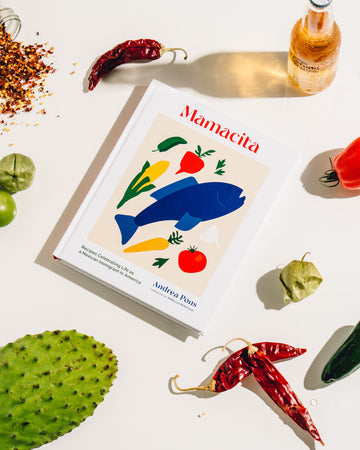 Join the community