Notes From The Countertop
Learning To Fly
Tonight there is a full moon, but, not any full moon. The Cree people refereed to this moon as the "Flying Up Moon" because this is the time of year when all the offspring are finally ready to take the leap and fly. Much like these young birds shaking off the last bits of fluffy feathers and expanding their aerodynamic wings,
Mamacita
is ready to jump off the highest branch. 
I've been overwhelmed by the amount of love and support that
Mamacita
and my family have received from the community these last few months. When I began writing the book, I could have never imagined the many hands, shelves and coffee tables that would eventually hold this book. Just yesterday, I was invited to a beautiful wedding in Bainbridge island. Little did I know, that the lovely owner of the property where happy hour was hosted, had a copy of
Mamacita 
which was gifted to her by the bride. She invited me into her stunning house, a place that was made a home by the conscious collection of objects gathered from every phase of the owners' lives. And right there, at the heart of the home, sat
Mamacita
on top of a book-stack. It took everything not to shed a tear. Suddenly I was thankful for the valor my glass of wine provided me.
Although
Mamacita
is in fact a very real book, the idea of it being in people's hands is still surreal for me and I'm not sure this feeling will ever go away. At least for now, I hope it will always remain. 
There is still a lot of work to be done. But, in a short three months and thanks to the generosity of those who have purchased a copy, my family was able to raise $5,000 which is just enough to lock down a lawyer for my parents and get their immigration process started. In the midsts of these news, I decided to travel back to Mexico for the first time in 16 years, since I came into the country. My grandmother's health, Titita Tere aka the OG Mamacita was my primary reason for visiting. She has unfortunately been under Alzheimer's spell for almost a decade. A terrible disease that slowly turns off every button that makes a person who they used to be.
Regardless of my Titita's inability to open her eyes, speak, eat or walk on her own, her brilliance and love still radiates through her fingertips. Sitting there besides her as she rubbed my arms and held my hands, I could feel the years of love and passion that she has poured into everything and everyone who she has ever loved. I hope that I can continue her legacy through
 

Mamacita
and forever let her spirit of joy and appreciation for the little things in life live on. 
I have big plans for
Mamacita
, and some exciting news will be shared with you soon. Next month is Hispanic Heritage Month, and like any good Latina, I am ready to throw down the biggest fiesta in celebration of the achievements we've had so far and in honor of how far my family and
Mamacita
have come. Starting with this blog post, I am looking to begin a regular "Sunday From The Countertop" letter, which will share aspects of life, the progress of
Mamacita
, event news, new products and more. I hope that you can join me as we get ready to flap our wings for the first time and explore new horizons yet to be reached. 
With gratitude, 
-Andrea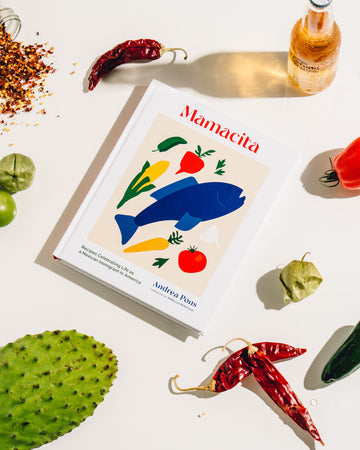 Join the community